Note:
This feature is currently in beta and not available for additional customers at this time.
Purpose:
The purpose of this article is to provide answers to Outreach users regarding commonly asked questions about Outreach's texting feature.
For more information on Outreach Voice and features, refer to the articles in the Outreach Voice.
Note: Outreach's Texting feature is currently under Beta testing; therefore, some features are not currently supported. When the feature clears beta testing, this article will be updated to reflect the applicable changes.
Q: How will I know if I've missed a text in Outreach?
A: There are three ways Outreach notifies you a text message is pending your review.
A red dot will appear over the message icon in the navigation sidebar.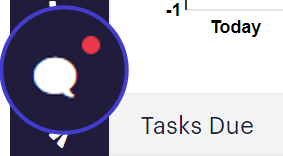 A number in parenthesis appears in the Outreach tab in your browser.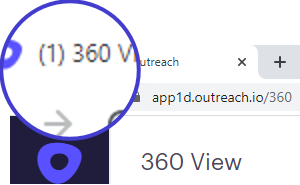 If enabled, you'll receive an email notifying you of an unread text message. This email includes a clickable link for quick reply.

For more information regarding configuring email notifications for missed text messages, refer to the How To Enable/Disable Missed Text Message Email Notifications article.
Q: Will text messages appear in the activity history of the Prospect? What about my activity feed?
A: Text messages appear in the activity history in the platform and in the extension. Text messages can also be seen on the Prospect Activity Overview.
Q: Can I text more than one person at a time?
A: Bulk messages and group chats are not currently supported.
Q: Can I text non-US numbers, including Mexico and Canada?
A: Texting can only be sent to and from US and Canada numbers. It is not available for other countries at this time.
Q: Can I text via Outreach using an imported phone number or Bring Your Own Voice (BYOV)?
A: No. Texting in the Outreach platform only works with numbers purchased through Outreach and Local presence is not an option with this feature.
Q: Does Outreach support Multimedia Messaging (MMS) such as GIFs, Images, etc.?
A: MMS messages cannot be sent through the Outreach texting feature; however, you can receive MMS messages.
Q: Can my Prospects opt-out of receiving my text messages?
A: If a Prospect opts out in Outreach via standard or granular unsubscribe, Outreach will block SMS messages to the Prospect and the Prospect's phone number.
Q: Can a Prospect opt-out of receiving text messages by replying "stop" to a text message?
A: If a Prospect replies to a text with STOP, STOP ALL, UNSUBSCRIBE, CANCEL, END, or QUIT, Outreach's SMS provider, Twilio, will prevent texting between the Prospect's number and the customer; however, Outreach does not automatically update the Prospect's opt-out status or prevent texting from other numbers to that Prospects number in Outreach.
For more information on Opt-Out options, refer to the Manual Prospect Opt Out article.
Q: Can I include special formatting, such as hyperlinks, in my text messages?
A: At this time special formatting is not supported in text messages sent from the Outreach platform.